After the sale…assistance
For each type of system designed and built, Intergen is able to offer a prompt assistance and maintenance service, defined and tailored based on the customer's specific needs.
Our technicians are able to constantly and completely assist you after the sale, with expert advice and fast interventions at any time you request them. We offer annual and custom maintenance contracts, to be able to guarantee periodic system control and operation inspections.
We organise training of your personnel for managing in-house system assistance.
Service network
Intergen works in the engine and system maintenance service market, through a dedicated in-house structure, which is able to guarantee service 7/7  365 days a year, with availability of spare parts within 24 hours.
Intergen currently manages the maintenance of more than 200 systems, through central Management and Sales departments which coordinate in-house technicians and a network of Authorised Shops throughout Italy, and is thus one of the leading operators in this sector.
Precise planning of on-site activities and continuous updating of assigned personnel make it possible to promptly perform all the interventions necessary for optimising system performance and for its correct maintenance.
Intergen also proposes a remote system control solution, after on-site installation of a communication via web modem; this option is used to best display and monitor all the operating parameters, both in normal operating conditions and in the event of a fault/system shutdown, making it possible to identify the best assistance strategies, to minimise system downtime.
Expertise
One of the few Italian companies which can boast an organisation structured with highly qualified technicians.
On-call
7/7, 365 day a year on call service throughout Italy, Intergen intervenes promptly.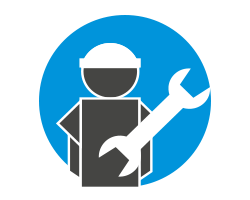 Extensive coverage
A central warehouse guarantees the availability of spare parts within 24 hours to provide support for decentralised storage areas at plants.
remote control of the system
Availability
Display and monitoring of all the operating parameters both in operating conditions and in the case of a fault make it possible to maximise the system's hours of availability.
Service programs for all needs
Intergen has different maintenance contracts for its customers, able to cover the entire engine life cycle to varying degrees. The service offer is broken down into the following formulas: "Full Service", "Scheduled" and "Packet".
Intergen's aftersales service also offers custom programs based on specific system needs.
"Full Service" is the maintenance contract most chosen by our customers. An all inclusive service that entails preventive, corrective and extraordinary activities, including insurance coverage for structural faults. This program also includes spare parts, labour and a lubricant service with the security of remote assistance guaranteed by operators at our offices. This means having a certain cost governed by a contract (no risk of additional costs), as if it were an extension of the warranty or an all-inclusive insurance policy.
The "Scheduled" contract allows the customer to obtain assistance for preventive activities with billing for each hour of engine operation. The customer has the possibility of requesting service by phone with a cost distributed based on hours of operation.
The "Packet" formula lets the customer receive assistance for preventive – scheduled activities in accordance with the activities of the manufacturer's Maintenance Plan – with billing by event and with the possibility of obtaining service by phone.
Maintenance of MWM engines installed on cogeneration plants
A long commercial partnership makes it possible for Intergen to pursue a prestigious, quality and top performance policy, building generation and cogeneration plants with a range of premium gas and biogas engines from 400 to 4,300 kWe.
At present, there are around 5,000 of the German manufacturer's engines selected around the world, equal to more than 5,600,000 installed kWe.
The relationship of mutual trust that ties us to MWM allows us to be positioned on the high output cogeneration market with highly efficient energy solutions that are ecologically advanced and very high performing. Our offer combines the reliability of MWM with the engineering of Intergen's technicians, making it possible to design machines meeting the specifications of the plant and needs of the customers. Our commercial background means we can offer a 360° consultation service on all plant aspects. With 28 years as representative and also thanks to investments for training our personnel, Intergen has acquired knowledge of the engine to be able to perform intervention services even on MWM engines installed by others".
MWM engines: efficiency and high performance
MWM motors come in a wide range of powers and combine efficiency with excellent performance. The proposed technological innovation guarantees gas consumption up to 15% less compared to competitor brands, with better electrical and thermal efficiency in the respective power categories.
Other advantages include the maintenance program and emissions. The engines feature shorter downtime, with a savings of up to 75% during major overhaul. This generates a positive impact on costs.
A cutting edge dimensioning of the engine improves combustion of the gas mixture with consequent reduction in emissions and better electrical and thermal efficiency.
Rotary UPS system maintenance
A dedicated on-call service is available aimed at ensuring an immediate response for maintenance and repair of UPS systems.
Intergen can also supply assistance during activation and start-up operations of the UPS on-site with additional training of personnel on-site.