Cogeneration plants
Generating sets
No-break rotary UPSs
Global efficiency: high efficiency cogeneration and trigeneration plants, industrial emergency generating sets, KS no-break rotary UPSs.
Our business is constantly looking towards the future: what makes us unique is our search for customised solutions in a continuously evolving market. This lets us contribute to our customers' growth, help save the environment and create energy savings.
High output cogeneration plant Ospedale Niguarda Cà Granda Milan Natural gas engines MWM TCG 2032V16 Electrical power 4x3.900 kWe Low and high te…
Generating sets driven by GE diesel engines installed in Hamriyah Free Zone, Sharjah UAE – Takreer Project. 3 GE 16V228 diesel engines, 1,000 r.p.m. …
Area 370,000 m2 – Buildings 18,000 m2 – 140 antennas – 14 control rooms Plant with rotary UPS NO-BREAK KS® Systems – dynamic UPSs installed in the Fu…
Motor-driven pump unit installed in Tamarugal Province Tarapaca Region Santiago Chile GE diesel engine 16V228 12V 2.400 kW Pump capacity 576 m3/h …
26 Oct 2017
Intergen is pleased to invite you to the next Exhibition ADIPEC 2017 - one of the most important Trade Fair…
18 Apr 2017
Intergen, the Italian company that has worked in the energy sector for more than 70 years, specialised in the design…
After the sale…assistance
Intergen makes its Maintenance Program an added value, to let companies achieve the desired results, both in terms of cost savings and efficiency.
Investment estimates
Service Program
Service Network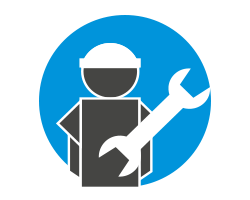 intergen is sponsor of AGIL Volley – Igor Novara Volley